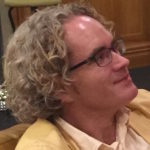 Matthew is well known as a Concertmaster and Music Director.  He is the founder and Artistic Director of Wellington Opera.
In 2019, he was Music Director for Eternity Opera's production of Rigoletto, following on from a critically acclaimed season of Madam Butterfly in 2018.
As Music Director, Matthew has performed seasons of Johann Strauss' "Gypsy Baron", Gilbert & Sullivan's "HMS Pinafore", "Trial by Jury", "Pirates of Penzance", Disney's "Beauty and the Beast" and Hayley Westenra's North American DVD entitled "Live from New Zealand".
He has directed programmes with the Wellington Orchestra and Southern Sinfonia and has conducted masterclasses in Vienna, Stockholm and Moscow. He is an alumnus of the Symphony Australia Conductor Development Programme.
Matthew was Concertmaster of Orchestra Wellington from 2003 – 2015 and was previously a 1st violinist with the New Zealand Symphony Orchestra from 1994 – 2003. He toured with the Jeunesses Musicales World Youth Orchestra 1993 – 1995 and was Concertmaster of the Stockholm Royal College of Music Orchestra 1997 and the New Zealand Youth Orchestra 1990 and 1992. He has also performed as guest Concertmaster with the Southern Sinfonia.
He has performed many of the major violin solos in the orchestral, opera and ballet repertoire, including Swan Lake, Scheherezade, Romeo and Juliet, Coppelia, Madame Butterfly, Capriccio Espagnol and Capriccio Italien. Many of these recordings are played regularly on Radio New Zealand.
His teachers include Clace Schwabe,  Jan Tawrosewicz and Karl-Ove Mannberg.